Preparation tank
MIZUHO'S VACCUM AGITATOR is a composite equipment which performs agitation and emulsification while optimizing conditions (vacuum, pressure, cooling, and heating) inside the vessel.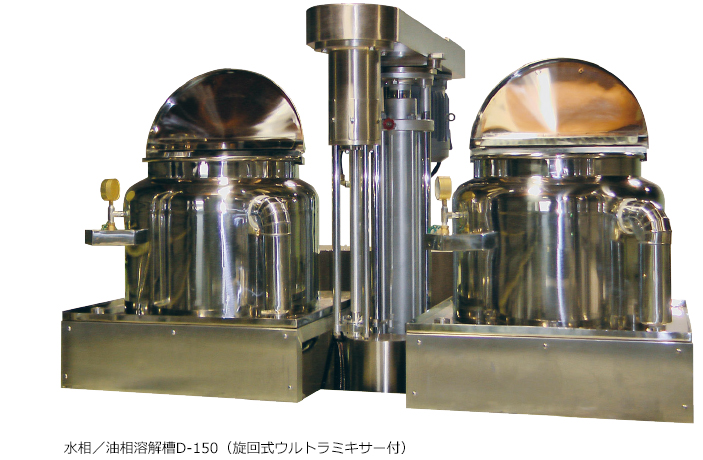 Pulsator (specified)

Disperser (optional)

Pulsator + propeller mixer
Feature
●

It is a tank for dissolution of raw materials in oil phase and in water phase before emulsification.

●

There agitator (pulsator) at the bottom.It is available to agitate from a small amount to large.

●

It is possible to dissolve the solid material.

●

Because there is no agitator in the top of the tank, you can put raw materials into the tank easily.

●

By adding the lifting mechanism and the swivel type mixer (selectable from homo mixer, dispersion mixer and ultra mixer) between aqueous phase dissolving bath and the oil phase dissolution bath, it is possible to use both bath to get high efficience. Produntion manufacturing in the melting tank only is also avairable.
Specification
D-150

Contents (L)
(aqueous phase) 150 (oil phase) 150
Specified charge amount (L)
(aqueous phase) 120 (oil phase) 120
Pulsator
motor (kW)
0.4
Rotational speed (rpm)
500 – 1200
Ultra mixer
motor (kW)
3.7
Rotational speed (rpm)
350 – 3500
Some content is ordered and PDF format.
To view our PDF file format, Adobe Reader from Adobe is required. Download AdobeReader the latest (free of charge) from the Adobe site, please install If you do not have.