Equipment for Powder Product
AN EPOCH-MAKING DEVELOPMENT IN POWDER PRESSES
High performance modeling machine for powder product, compact, and eye shadow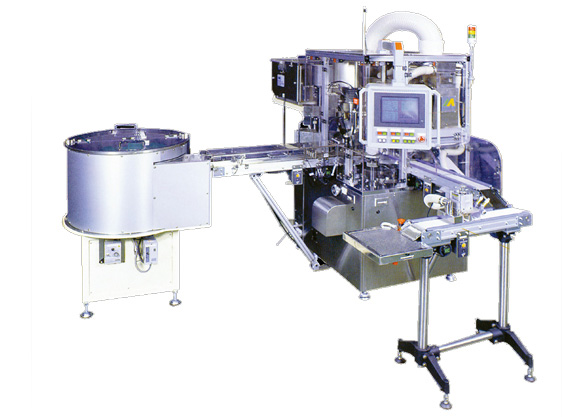 Feature
●

Rotary sequential control suitable for multiobjective production is adopted to meet user needs.

●

This machine performs optimum performance in powder pressing.

●

From pan feeding to finished product discharge, all steps(production) are fully automated and controlled by a single operator using only three buttons.

●

Owing to easy replacement of the mold and easy cleaning when changing the color, this machine is widely used in applications from limited production of diversified products to mass production.
Touch screen operation panel
You can read the data from the touch screen operation panel. Also, you can change the pressing conditions.
The pressing condition can be printed to maintain quality of product.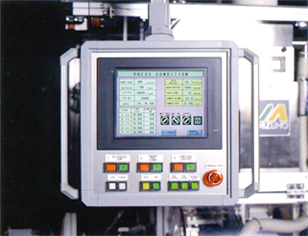 ●

actual production number (number / min)

●

hydraulic pump pressure

●

clamping force (compression pressure in the lower press)

●

powder supply to the medium plate (product weight)

●

rotation speed of the turntable

●

speed of agitating rotation at the powder supply

●

powder supply time to the medium plate

●

operating conditions of the lower hydraulic cylinder
(Ram operating time and press ram speed)

●

the operating conditions of the multi-stage press (hold or down)
Specification
AP-8A

| | |
| --- | --- |
| capacity (pcs / min) | 10 – 40 |
| Clamping force (kN (kg)) | PRESSING LOAD (MAX.) |
| Midium plate maximum diameter (mm) | PAN DIA. (MAX.) 80mm |
| Maximum depth of the midium plate (mm) | PAN DEPTH (MAX.) 25 mm |
| Power required (kW) | 6 |
| Dimensions (mm) | 900(W)×900(L)×1720(H) mm |
| Weight | 1200(kg) |
Powder volumetric feeder

This feeder supplies a fixed quantity of powder to the hopper by means of a special feeding screw that also eliminates powder bridging.
By using this device, the powder level in the hopper is constant. Also, filling amount of the powder to the middle plate is stabilized for press hardness.
Vibration method plate alignment machine

Inner plates which put into vibration bowl are aligned automatically, and send to the molding machine. By using this automatically system, the product can be produced by a worker.
By this automatical supply of plates, a woker can produce product.
Product takeout mechanism and product surface cleaner

Product is removed from the mold by vacuum suction, and the surface is cleaned with a roratry brush or by compress air.So this device can produce product with less powder adhesion onto the plate.
External dimensions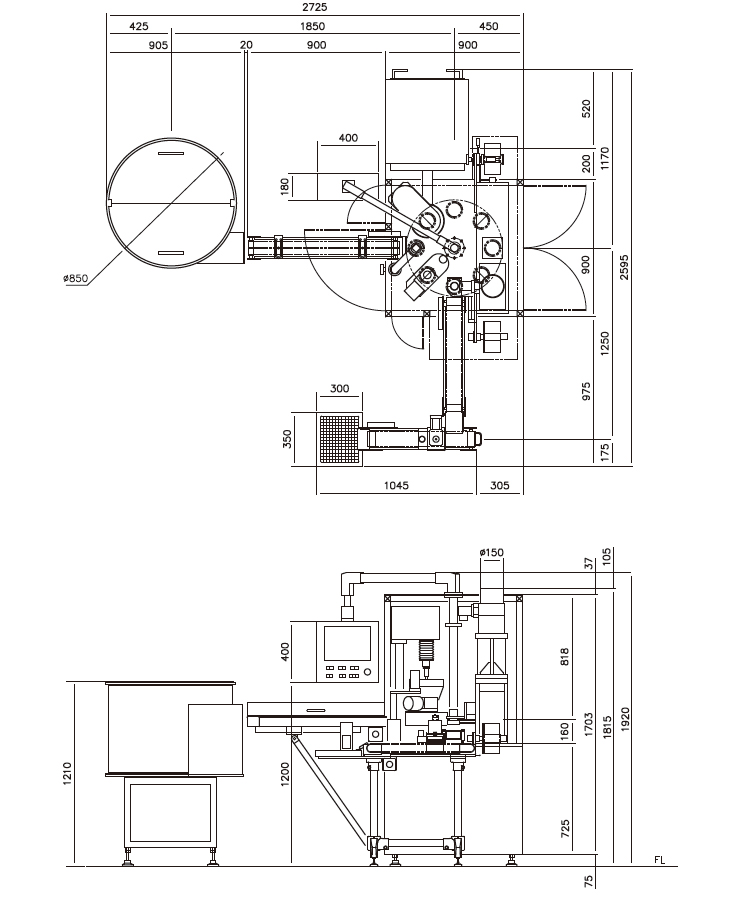 Some content is ordered and PDF format.
To view our PDF file format, Adobe Reader from Adobe is required. Download AdobeReader the latest (free of charge) from the Adobe site, please install If you do not have.