Vertical Kneader
Powerful blade achieves minimum clearance and can clean easily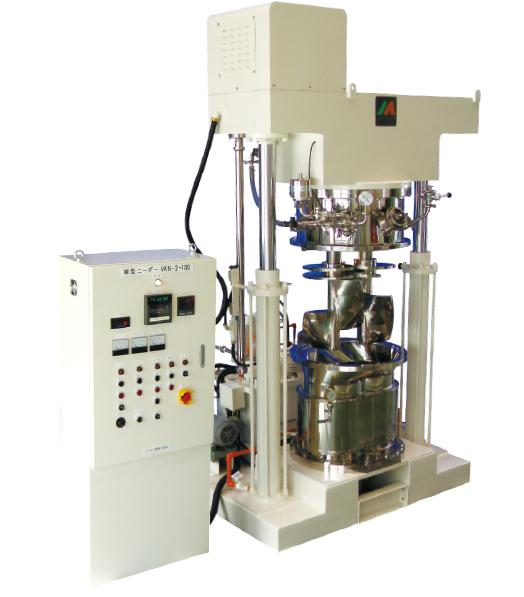 Feature
●

clearance between the tank and the blade is 1mm.

●

Previous planetary mixer was impossible to make the particles smaller without damage, but this machine can make the particles smaller with low rotation speed.

●

shape of the vessel cross-section is a gourd-shaped.

●

complete mixing and dispersion is possible only rotation.

●

Tough device with a simple structure.

●

powder raw materials suction is possible from the bottom while driving.

This device is effective as a high viscosity. This function is not in the other mixers
Powder deposition of tank lid inner surface eliminates.

●

The movement of the kneaded product will be increased by large blade.

●

scraping of the blade is not required. The blade shape eliminates the adhission of materiaks.

●

Contamination from the shaft seal does not occur because of the garbage plate

●

screw is directly with the top of the blade.

●

By raising the lid, the screw and blades are completely outside of the tank, so washability is improved

●

For a vacuum specification, airtightness is better.

●

Because strong one shaft without joint connection, hard kneading is possible.

●

Liquid can be diluted easily after kneading. At the same time, liquid can be injected while operating the device

●

Jacket can be attached to the blade as optional. This is impossible structure in a planetary mixer.

●

there is no projection in the tank as temperature sensor is integrated.

●

Product releasing method can be chosen in a wide variety styles.

●

The raw material can be inserted from screw on the top of the lid.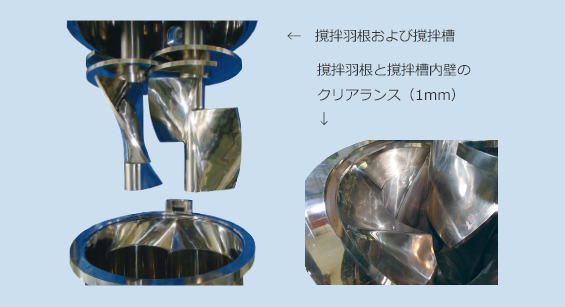 Specification
VKN-2-100

| | |
| --- | --- |
| Inner Capacity (L) | 100 |
| standard Working Capacity (L) | 40 – 70 |
| Rotational speed (rpm) | 7 ~ 70 |
| Motor (kW) | 7.5 |
| Dimention (mm) | 1660(W)×1500(L)×2335(H) |
| Weight (kg) | 2100 |
Some content is ordered and PDF format.
To view our PDF file format, Adobe Reader from Adobe is required. Download AdobeReader the latest (free of charge) from the Adobe site, please install If you do not have.