Continuous Emulsifying Agitator
This continuous mixing equipment is perfect for limited laboratory space.
Circulation agitation is possible by using another tank set. Also, this device does not take place in a large amount of emulsification and dispersion.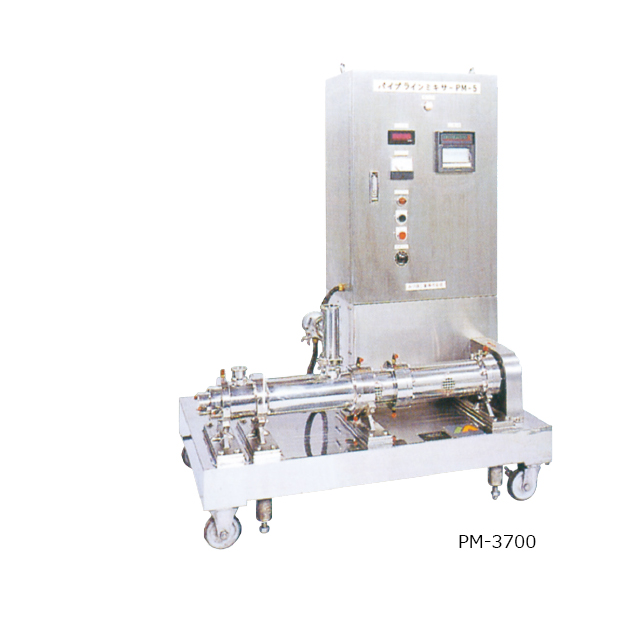 This continuous mixing equipment has a homo-mixer in the pipe line.
By passing processing liquid through the pip line, this system has the similar effects as the conventional homogenizing mixer.
Feature
●

High-speed rotation of the homo-mixer combines the chopping force and crushing force. Because of these forces, raw materials is atomized, emulsified, and agitated when passing through the pipeline to the next process.

●

It is possible to create a manufacturing process of optimal agitating and mixing depend on use of each.

●

The contact parts are detachable and cleaned easily. There is also a sanitary type.

●

Mizuho has developed our original four-series homogenizing mixer. Processing can be done by the processing count less than that of the standard two-series homogenizing mixer.
※ ※ We have various manufacturing from small testing machine to large production machine. We will design and manufacture of mixer that best fits your requirements. Please feel free to contact us
※ About the relevance of particle size and number of stages each, please refer to the graph below.
Relationship of the discharge rate and the number of stages of homo mixer (in-house comparison)

Processing solution: Clear water
Used equipment: a pipeline mixer (PM-5500)
Motor capacity: 5.5kW
Blade shape: high viscosity type (1 piece), low viscosity type (3 pieces)
Relationship of the number of stages of the homo-mixer and particle size (in-house comparison)

Formulation: water, liquid paraffin, emulsifying agent
Used equipment: a pipeline mixer (PM-3700)
Rotational speed: 3500 rpm (last path of each stage: 5000 rpm )
Usage example

1.Continuous agitating

2.Outside continuous agitating

3.Multiple liquid continuous agitating
Construction of a pipeline mixer

1 suction side mechanical seal
2 suction port
3 jacket
4 Low viscosity type three-stage turbine

5 high viscosity type one-stage turbine
6 discharge port
7 discharge side mechanical seal
8 motor
Some content is ordered and PDF format.
To view our PDF file format, Adobe Reader from Adobe is required. Download AdobeReader the latest (free of charge) from the Adobe site, please install If you do not have.